Save with these 5 Valentine Day Hacks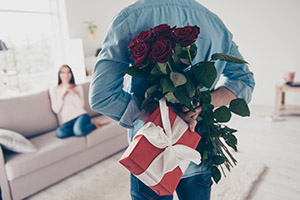 The earliest American valentines were simply a handwritten on a sheet of paper and adorned with the hand drawn symbols of hearts, flowers, and birds. Those days are gone and nowadays Valentine's Day can be a costly celebration. Here are some tips on making this holiday romantic but without breaking the budget.
1. Dine In – Going out on Valentine's Day may be both expensive and not very romantic. Try to imagine carrying in on the conversation in a noisy restaurant where you might bump elbows due to the crowd. Why not cook up a gourmet meal at home for half the price? Don't forget to set the ambiance with candles and nice music.
2. Celebrate early or late – Take your date out to the restaurant the weekend before or a few days after the Valentine's Day and skip the crowds. You will also avoid typical upcharges to the menu items that some restaurants have on Valentine's Day.
3. Shop with a Sales App – check out shopping apps like PriceGrabber or ShopSavvy to score deals on a Valentine's gift. The apps help you compare the prices at online and brick-and-mortar retailers and locate coupons of items of your interest.
4. Save on flowers – a dozen of red roses will cost you a pretty penny but if you choose less expensive flowers from your grocery store and arrange them yourself then you not only save money but also show off your creativity.
5. Top it off with desert – nothing says "I Love You" better than chocolate cover strawberries made from scratch. Get the recipe here.
No matter how you celebrate this Valentine's Day, you are sure to make memories for you and your Valentine.

« Return to "CFFCU Blog"
Go to main navigation