Coronavirus Scams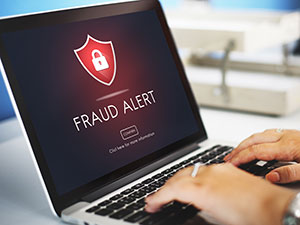 Fraudsters and scammers take advantage of fear and uncertainty—two things in abundance during the coronavirus pandemic. The Federal Trade Commission (FTC) had logged about 192,700 consumer complaints related to COVID-19 and stimulus payments by September 7, 2020. Victims reported a median loss of $300, for a total of $134 million lost to scammers.
To keep your time, money, and personal health information safe, review this list of top pandemic scams. For a continually updated list, visit the Federal Trade Commission website (www.ftc.gov) or the Federal Communications Commission (FCC) website (www.fcc.gov).
Fake contact tracers
Fake coronavirus contact tracers hope to use your fear of exposure to the virus to extract payment, financial information (bank account or credit card number), your Social Security number, or immigration status. A legitimate tracer will not need nor ask for any of this information. Depending on your state's program, legitimate contact tracers may call, email, text, or visit your home to collect very specific information: your name and address, health information (but not Medicare or Medicaid information), and the names of places and people you have visited within a specific timeframe.
Stimulus payment scam
There are a few different stimulus payment scams that have been reported to the government. The easiest way to avoid all of them is to follow these rules:
Only use www.irs.gov/coronavirus to submit stimulus information to the government.
Do not respond to texts, emails, social media messages, or calls claiming to be from the IRS about your stimulus payment (that's not how the IRS would contact you if they have questions; they'll do it by snail mail).
You don't have to pay anyone to get your stimulus money. If you receive a communication claiming to be the IRS and instructing you to deposit your stimulus check and then send them money back because they overpaid you, it's a fake check scam.
Fake vaccines and test kits
Phony vaccinations and home test kits for sale are rampant on the internet and as a part of email phishing schemes. There is no guarantee these products work, and in most cases, nothing shows up at your door, but you're already out the money. Some scams are targeted at Medicare beneficiaries, requiring the Medicare and personal information needed to commit healthcare fraud.
Illegal robocalls
Even if you avoid scams on the internet, scammers are also using illegal robocalls to sell low-priced health insurance, free virus test kits, cures, work-from-home opportunities, debt consolidation services, and student loan repayment plans. Some versions target high risk individuals with diabetes, offering a free COVID-19 testing kit and a free diabetic monitor; others claim to be from the U.S. Department of Health, warning of a coronavirus outbreak in your area and recommending a (fake) vaccine sold by a phony "health advisor."
What all of these robocall scams have in common is asking for your personal and financial or payment information.
Fraudulent government and health organization emails
Health organizations like the Centers for Disease Control (CDC) and the World Health Organization (WHO) will never email you personally. But scammers want you to think that's who's contacting you with dire warnings and some request for personal or financial information.
Only use sites like www.coronavirus.gov and www.usa.gov/coronavirus for the latest information.
Small business scams
Small businesses can also be victims of fraudsters. Businesses can receive phone calls, emails, or targeted ads online about fake virus-related loans or Payroll Protection Program and Economic Injury Disaster Loan process help. The only place to officially and safely apply for government assistance related to the pandemic for a small business is at www.SBA.gov.
« Return to "CFFCU Blog"
Go to main navigation