COVID-19 Fraud Scams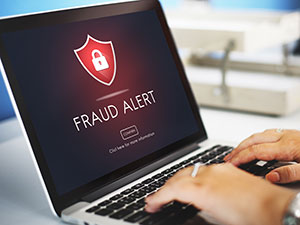 The recent COVID-19 pandemic has resulted in large numbers of unemployment filings. Unfortunately, many agencies are also reporting an increased number of unemployment scams in which victims' identities are being used to file false unemployment claims. Victims, who have not filed unemployment claims, are receiving notification from their employer's Human Resources department, or the Unemployment Insurance Agency indicating an unemployment claim has been filed on their behalf. Unemployment Insurance Agency is recommending the following steps for anyone who knows or believes that they are a victim:
Steps to report fraud and identity theft
1. Contact Human Resources – reach out to your HR department to coordinate and report the incident to your employer.
2. Report the fraud to the Unemployment Insurance Agency fraud unit in your state
3. Get a free credit report and place a fraud alert– contact one of the credit report bureaus: Equifax, Experian, or TransUnion at www.annualcreditreport.com or call 1-877-322-8228. Report that the fraudulent claim was made using your identity. You can then put a free fraud alert on your identity with one or more of the credit report bureaus or freeze your credit. Find more information about freezing your credit here.
4. Contact the IRS – if it is confirmed that a payment has been made as a result of unemployment identity theft, report the payment as fraudulent by completing an IRS Affidavit Form 14039 (Search Forms and Instructions).
How to protect yourself from becoming an identity theft victim
Guard your Social Security Number. Give out your number when absolutely necessary and don't carry your Social Security Number card with you.
Don't respond to unsolicited requests for personal information (your name, birthdate, Social Security Number, or bank account number) by phone, mail or online
Shred receipts, credit offers, account statements, and expired cards, to prevent "dumpster divers" from getting your personal information
Review your credit report at least once a year at www.annualcreditreport.com to be certain that it doesn't include accounts that you have not opened.
How can Community Focus FCU help you in preventing identity theft and fraud?
Sign up for e-Statements in Online Banking to reduce the chances of becoming an identity theft victim through mailed account statement
Sign up for SavvyMoney in Online Banking to view changes to your your credit report 24/7. If you see any fraudulent or unknown accounts, you can easily dispute your report via the Dispute Report button within SavvyMoney.
Sign up for MobiMoney and get instantaneous notifications anytime your Debit Card is used
Set up E-Alerts in Online Banking and get updates on your balances, transactions, unauthorized logins or upcoming loan payments
For more information on the Unemployment Insurance Agency fraud, please visit the Unemployment Insurance Agency's website.
To learn more about identity theft and fraud prevention tips, please click here.
« Return to "CFFCU Blog"
Go to main navigation