Some Deals Are Too Good to Be True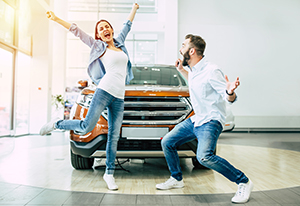 Some Deals Are Too Good to Be True
Everyone wants to get a deal when they are buying a car. Why would you pay more than you absolutely have to? One of the biggest ways to save on a vehicle is to be related to someone who works for a manufacturer. Some family discounts can be as good as a 99% off the manufacturer suggested retail price (MSRP). Most tend to be 5%–10%, which is still a significant savings on a brand new vehicle that costs tens of thousands of dollars.
Those kinds of deals bring a lot of customers, desperate for a discount, to a salesperson. In fact, one salesman was recently arrested by federal agents for illegally offering $8.7 million in discounts to people who were not family. It should be obvious that such deep discounts are very regulated and mostly reserved for direct relatives and a very few select friends, if any. The dealer involved was selling the discounts on social media, often stealing coworkers discount codes. If it seems too good to be true, it is.
So what are your best bets on getting a discount?
Buy used. A one- or two-year-old car has almost all the same tech and features you'll find on a brand-new car. A new model-year doesn't mean new features because most vehicles are refreshed every two to five years with overhauls and fully new models every five to ten years.
Another option is to shop for vehicles that have a low turnover rate. Dealers only have so much space for inventory. They want to use that space for vehicles that are going out the door fast. They have to pay to keep a vehicle on the lot, so they are going to be willing to cut you a deal to clear out low-volume cars.
If you really want a new car, and never want a vehicle more than a few years old, leasing is an option. You'll constantly be making monthly payments and never have any equity in the vehicle, but you'll also have a lower payment than buying a new car every two or three years.
If you do know someone who works in the automotive industry, ask them if they do have access to discounts. Dealerships do get some, but people employed by automakers and parts suppliers usually get better discounts. It never hurts to ask someone if they can help. A lot of people have access to discounts and don't even know it. One thing you may run into is a dealership not knowing about the discounts. Metro Detroit is full of automakers' headquarters and suppliers to the auto industry. Dealerships in those areas are very familiar with people coming in with discount codes. Outside of that area, you might need to explain what's going on if you have a code.
What you shouldn't do is buy a code or discount. Paying someone to give you a deal is never the deal you think you're getting. Another red flag is a car salesperson telling you they can get you a deal but you can't tell anyone. Industry discounts are an above-the-board thing. In the case of the salesperson who was recently arrested, they were offering deals to bolster their own sales numbers. The more cars someone sells, the bigger bonuses they get from the dealership they work for. There are also manufacturer bonuses for high-volume dealers and dealerships.
Buying a new vehicle can be stressful enough as it is. If you know there are discounts or money-saving options available before you go in, bring those with you to the dealership. If their salesperson offers you some deal that is just too good to seem true, ask if you can talk to a manager to confirm. Or ask if the deal is valid at other dealerships. The fallout from that one salesperson's fraud is ongoing. The people who bought from them are most likely in the clear, but it's always better to be ethical and safe than shady and unknowingly stealing.
« Return to "CFFCU Blog"
Go to main navigation