Tips for Using Mobile Check Deposit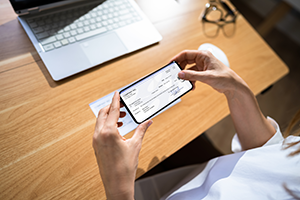 With the Community Focus FCU' s mobile banking app, you can deposit a check without ever making a trip to the bank. It's really easy and it saves you time and money. Below are some tips to keep in mind when you use mobile check deposit feature.
Endorse your check properly
When you deposit a check via mobile deposit you must first endorse your check. Simply, sign your name on the back of each check you are depositing and write "For Mobile Deposit Only" along with the current date.
Take a quality photo of your check
Checks come in a variety of designs: some feature light colors and other may have bright prints. The best way to take a photo of your check is to place your check on a plain, dark background and center it in the middle of the photo.
Understand your mobile deposit funds availability
Funds are generally available within the two business days.
Be mindful of mobile deposit limits
Mobile deposit limitations can vary between financial institutions. At Community Focus FCU, each mobile check deposit is limited to $5,000 per check and the total daily limit is $10,000 per business day per eligible account.
Retain your check
Mobile deposit is a convenient, fast, and secure way to deposit money. Sometimes, however, an error may occur causing the check to be rejected, such as entering the incorrect amount of the check. At Community Focus FCU we ask that you retain the check in a secure location for 60 days, after which time, the original check should be shredded.

« Return to "CFFCU Blog"
Go to main navigation