Protect Yourself from Mobile Check Deposit Scams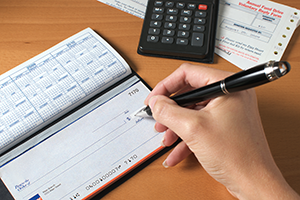 Mobile Check Deposit is a popular feature on most mobile banking apps that allows you to take a picture of your check and upload it with just a couple of clicks to your bank or credit union account at any time of day or night. Mobile check deposits are simple and convenient. They save time and make your life easier. Millions of American consumers use mobile check deposits on everyday basis.
Community Focus FCU mobile check deposit feature ensures that any information transmitted to us electronically is using the highest encryption tools available. All check images are stored on a secure server not on your mobile device and they are deleted as soon as the app is closed.
However, just like every technology, mobile deposit can become a prime opportunity for scammers to commit all sorts of fraudulent activities. Fake check scams typically involve a scammer contacting their victim through email or social media and claiming to be a potential employer, lender or interested buyer on a marketplace site. The fraudster may then provide a victim an opportunity to earn money quickly by offering to deposit a check to their account. The scammer may then request the victim's bank account information and may even ask for online or mobile login credentials to deposit the check. Often the fraudster may offer to pay more and request the victim to withdraw the extra funds and send it back through a third -party money service or a cashier's check later. What may sound like a great deal is ultimately as scam because the check deposited by the fraudster turns out to be fraudulent.
How to Protect Yourself
Never share your financial information including your bank or credit union accounts with any one
Don't accept any payments if they sound too good to be true and especially when they involve requests for funds to be sent back
Stay extra vigilant if you are communication with someone you've never met in person or a company with no online presence especially when you are being asked for your private information
Monitor your account activity. Check your transaction history often and sign up for e-alert notifications about any activity on your account.

If you think you may have become a victim of a mobile deposit scam, contact your local police department immediately and notify your financial institution as soon as possible. They can place additional safeguards on your account.

If you have questions about protecting your identity and your accounts online, visit communityfocusfcu.org/fraudprevention

« Return to "CFFCU Blog"
Go to main navigation