Getting the Most from Your Trade-In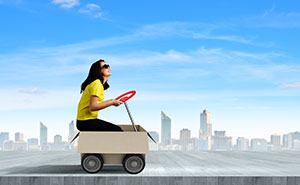 Getting the Most from Your Trade-In
You've been out shopping for your next car and know exactly what you want. You've already decided to trade in your car to a dealer to act as a down payment, or save you the hassle of selling it yourself. There are a few things to consider before you even start the trade-in process.
The Dos
Check online to get an idea of your car's value. Edmonds, Kelley Blue Book, and the National Auto Dealers Association (NADA) all publish used car pricing guides. These guides are all rough estimates based on past trends—treat them as such. Remember, dealers need to make some money on your old car—they can't afford to give you book value.
Set up appraisals with a few dealers—at least three. Start with CarMax, if there is one near you—they deal with used cars in high volumes. They will give you a seven-day guaranteed offer you can use to your advantage with other dealers. Be sure to try to get any offers or estimates in writing before you leave or move forward with your trade.
Take your car to a dealer that doesn't sell your brand of car. A Chevrolet dealer will have a few used Impalas sitting on the lot already. Adding more to stale inventory doesn't motivate the dealership to give you the best price; however, dealerships often have a list of people looking for off-brand trade-ins.
Look for deals. Manufacturers and dealers often have incentive packages for trade-ins. These can be beneficial if you don't have your heart set on a specific make and model; or if you own a certain make and model. These deals are most common with pick-ups, where brand loyalty is high. Incentives do show up from time to time with other body styles, so don't worry.
Organize your paperwork. If your car is paid off and you have the title, you'll need it. It's good to include the original Monroney (the window sticker) and owner's manual, if you have them. These won't necessarily increase the value but can save time in assessing the value of your trade-in. Any repair and maintenance receipts you have would be worth including too.
The Don'ts
Don't spend hours or a wad of cash on car cleaning. A vehicle straight from the car wash tells a dealer you are eager—this can hurt negotiations for your new car. Clear trash and personal belongings, but don't worry about every speck of dust or coffee stain. Dealers will give the vehicle a thorough cleaning or ship it straight to auction. A little dirt on a car will not hurt its value. The time, effort, and money you'd spend to remove any sign of daily use won't be worth it.
Don't assume you have to trade with the dealer you're buying from. You can sell or trade your car to any dealer. Your used car will act as a down payment, or a partial down payment, if you combine the trade with your purchase. A check in hand is as good as, if not better than, a car in a parking lot when you start to negotiate for your new vehicle.
Don't pay for repairs ahead of a trade in. People often think they need to make repairs before trading a car in. Repairs like brakes or alignment can be easily fixed by the dealer after the trade for less than you'd spend. If the car has a blown motor or a cracked transmission, your best bet is a scrap yard.
Don't lie about a fictitious higher offer. The vehicle appraiser is a professional—not only in their ability to gauge the value of a vehicle but also in negotiating—with no emotional attachment to the car. If you do have a much higher offer, be able to show them the written offer—negotiate with facts.
Don't worry if you owe money on your car. It happens all the time and is usually solved with a few extra signatures. If you owe more than the vehicle is worth, it could become complicated but not prohibitive. Dealers offering to pay off the balance of your loan no matter what you owe are somewhat misleading. They will pay off the original loan, but they will add the difference into your new financing.
All together, expect the process of trading in your car to take a few days to get everything in order. If you plan appraisals and purchase appointments in advance, you could wrap everything up in one day of running around. Every step can be scheduled online or over the phone. Selling and buying cars is a big financial decision. You will get more value for both ends of the transaction if you know what to expect.
« Return to "CFFCU Blog"
Go to main navigation