Exposing Hidden Fees - They Are Everywhere!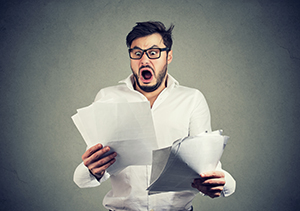 Exposing Hidden Fees - They Are Everywhere!
Undisclosed and deceptive fees are becoming commonplace and end up costing American consumers billions of dollars each year. According to a report by the Consumer Federation of America, hidden and additional fees can increase bills by up to 25%.
Companies may choose to hide the true cost of a product or service through fees—often added at the very end of the purchase process—so they can appear to be the lowest-price provider in a competitive marketplace. When, say, an airline service disguises part of a ticket's cost as fees, the true and total cost may not be picked up by online shopping engines, showing you a much lower price. Industries notorious for hiding fees include shipping, airlines, non–credit union banking services, cable providers, car rental agencies and dealers, hotels and resorts, phone providers, medical services, and retirement funds.
Types of hidden fees and fee pricing
Drip pricing
This fee tactic slowly accumulates costs as you progress through check out. A company might lure you to a product with a super-low price, but once you hit the "purchase" button, additional options (some of which are unavoidable, like a charge for the color of the item), upsells, tax, and shipping and handling costs will slowly push that price up.
Default upgrades
This often happens with bargain-basement travel deals with airlines, hotels, and car rental companies. The seller has boxes automatically ticked for product, service, or shipping upgrades by default. If you don't go through and uncheck each box, you'll pay a much higher-than-advertised price.
A surcharge
This is an additional fee that is usually higher than what you could pay for the item or action on your own. For example, the fuel surcharge from a car rental company.
Transaction fee
These are simply for the act of fulfilling an order, like for an online concert ticket purchase.
Undisclosed/Hidden fee
These are the fees that you weren't told about or able to discover on your own. These can be legal or illegal. They are considered illegal if they or the quoted price was deceptive, fraudulent, or the result of false advertising.
Excessive costing
You might know this scheme as the claim "You only pay shipping!" A company will sell you an item "for free" and you only have to pay shipping and handling fees—but of course those fees are inflated. This is how the company covers manufacturing costs and generates a profit.
Examples
Here's where you're most likely to find hidden fees:
Hotels. Today, hotels often charge "resort fees" to cover items that you might expect to be a part of your basic hotel price and experience. Resort fees can run $10 to $100 per night. They usually cover your room's "free" wifi, "complimentary" bottled water or coffee, access to the gym and swimming pool, towels, housekeeping service, the "included" breakfast, the safe in your room, and potentially other items and services. Ask about resort fees before you book your next hotel room and ask if any of them can be removed (like the one for a safe in your room if you don't need it).

Car rentals. Be sure you look for these fees and charges before deciding which company truly offers the best deal: additional insurance, age surcharge, additional driver fees, overcharged toll feels, fuel charges, drop-off fees, mileage fees.

Car dealerships. These might be some of the most well-known fees, which are added to the sale price before you sign documents and drive off the lot: advertising, documentation, dealer prep, inventory, and delivery fees, as well as extended warranties. Many of these can be negotiated.

Phone service. Beware of "cramming"—adding fees to your phone bill for services you didn't sign up for. They're often small-amount fees, but they add up over time. They can include voicemail, mail server, membership, minimum monthly usage, premium text message, or simply "other" fees. These aren't always illegal, but you have the right to contact your phone company and ask to cancel or negotiate a better deal.

Modem fee. Many internet providers charge broadband customers a monthly fee to rent a modem. You can avoid this by purchasing your own. It will most likely pay for itself in less than a year!
« Return to "CFFCU Blog"
Go to main navigation