Are Credit Unions Better Than Banks?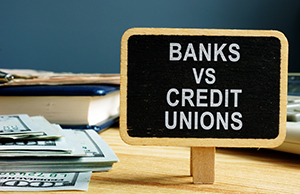 Are Credit Unions Are Better Than Banks?
Are credit unions or banks a better option for you when it comes to your finances? At Community Focus Federal Credit Union, we've found 8 ways that will show you that credit unions are a great choice for you!

Lower interest rates on loans and credit cards; higher rates of return on CDs and savings accounts
All that means more money in your pocket! Check out the comparison of national average rates on the loan and deposit rates by credit unions and banks by the National Credit Union Administration (NCUA).

Fewer account fees.
These days it's hard to find a free checking account at a bank unless you are willing to maintain a large account balance. Community Focus FCU is proud to offer its members several attractive checking and savings accounts that all feature:
No monthly service fee
No (or a very low) minimum deposit to open account
No minimum balance requirements
Free online banking and mobile banking
Free bill pay
Free e-Statements
Free mobile check deposit
Nationwide ATM Access
As Community Focus FCU member you get a access to a nationwide network of thousands of surcharge-free ATMs.
Your deposits are insured
Community Focus FCU is insured by the federal NCUA (referenced above) and provides insurance coverage on deposits up to $250,000.
Credit unions are member owned
Instead of stock-holders credit unions are accountable to their membership. One member has one vote. Whether you have $1 or $100,000 in your account you have the same say as any other member in determining the direction of your credit union. Community Focus FCU has its annual meeting in April of each year and you are welcome to attend!
Friendlier service
Some banks are notorious for treating their customers as little more than a number. Community Focus FCU employs caring professionals who genuinely listen to your needs and offer solutions with the compassion of a true neighbor. You are not just a number with us!
Easy to join
All credit unions have rules about who is eligible to join, but you may be surprised how easy it can be to become a member! Community Focus FCU offers membership to people who live, work, worship, or attend school in 18 Downriver communities, including immediate family members, such as your spouse, children, siblings, and parents.
Invested in your community
We are local and we are proud to support neighborhood programs. We are proud of our partnership with the local food pantry, Fish and Loaves, and the Cash for Class grant program for teachers. We also have a scolarship program for graduating high school students.

Whenever you need a loan or a account, check with Community Focus Federal Credit Union! We are here for you and you!
« Return to "CFFCU Blog"
Go to main navigation