Join Community Focus FCU
Visit our branch to apply Call with questions
Open your free qualifying checking account at Community Focus FCU and get a $250 bonus*! We've been in business for over 60 years and our goal has always been to work for your best financial interest. We can help you save with higher rates, affordable loan rates, and convenient access to your money. Plus, we're not-for-profit which means that all our profits go back to members like you!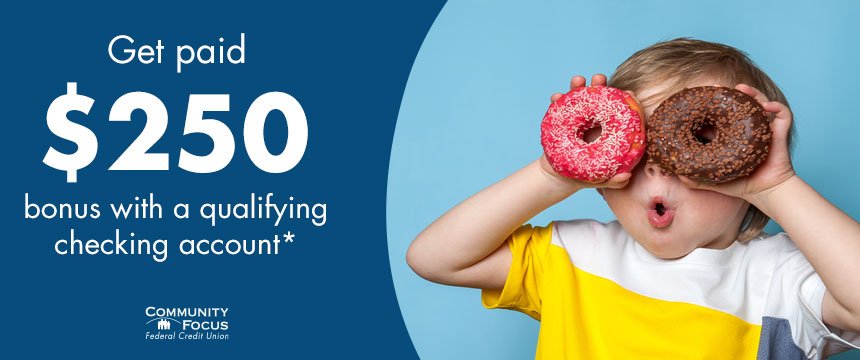 No frills...No fuss...Just a convenient Checking Account!
No Minimum Balance
Free Online and Mobile Banking
Free Online Bill Pay
Free Debit Card
Free Mobile Check Deposit
Free e-Statements
Access to over 30,000 surcharge-free ATMs
Member Testimonials
I've been with Community Focus for over 20 years, even kept my account open after moving out of state. I have my car loan with them, credit card, etc. Great customer service ALWAYS. I've been with other banks in 2 other states and ended up closing those accounts due to poor interest rates, hidden fees and poor customer service. I'm extremely glad I've kept an account open with Community Focus throughout the years and all the moves.
Kelley M.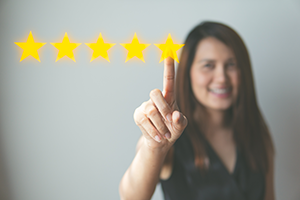 Why Community Focus FCU?
At Community Focus FCU we are relentless in helping you save with higher rates, borrow with affordable loan rates, and access your money in a convenient way.
Membership Eligibility
How to Apply
* The $250 bonus will be paid to the qualifying member 60 days after account opening with the following qualifications: checking account, online banking, minimum five debit card transactions, confirmed direct deposit of minimum $250. Qualifying member must be 18 years or older with no past history of default with Community Focus Federal Credit Union. Individuals applying for membership must qualify based on Community Focus FCUs field membership criteria. New member is considered to be an individual who has not banked with Community Focus FCU in the last six months. All new accounts are subject to approval. Individuals may not refer themselves or their minor children. Deposits will be made to qualifying members' checking accounts on the Wednesday in the week following the 60-day period. Early account closings within 90 days of account opening will be subject to a $25 early closure fee. Deposits are reported to the IRS and any applicable taxes are the responsibility of the recipient. This offer is subject to change and could be discontinued at any time. Additional terms and conditions may apply. Community Focus FCU is federally insured by the NCUA.
Go to main navigation