Credit Sense: Free Credit Scores and Monitoring
Community Focus FCU is pleased to provide FREE access to your credit score and credit monitoring with Credit Sense!
We know how important your credit score is especially when you are trying to rebuild or maintain it. Anytime you apply for a loan or a credit card, your lending instituion will review your credit score to determine your credit worthiness. Did you know that having a good credit can greatly influence getting a cell phone, renting an apartment or even securing a dream job. Always knowing where you stand can help you prepare for the future and potentially save you money!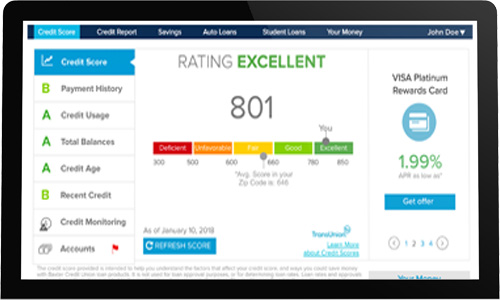 Credit Sense is a financial tool that will help you improve your financial well-being:
Credit Health
Get up-to-date personal credit information including credit scores, credit usage, total balances, payment history, credit age and recent credit.
Refresh your credit score as often as you need and get tips on how to improve it.
Credit Monitoring
Protection from fraud with alerts notifying you when something has changed in your credit profile.
Money Saving Offers
Make rate and payment comparisons to find the best deal for you.
Find out how you can save money by refinancing from other lenders to Community Focus FCU.
How to get started with Credit Sense:
Login to E-Teller Online Banking
Click on "Get Your Credit Score" on the right side of the page.
Read and accept the terms and conditions of use.
Answer a few simple questions to verify your identity.
Once verified, you are all set to use Credit Sense.
Have questions? Please read the FAQs for Credit Sense.
We're here to help!
We also offer a FREE Credit Enhancement Service, were you can consult with one of our loan team members about your credit, your score and items included in your report. Schedule your complimentary Credit Enhancement Service appointment online.
Go to main navigation